Economic abundance in thought and action
Many of today's crises – including the climate and biodiversity crises, existential poverty and a political mood of powerlessness – have to do with the way we do business. But economic practice is not a natural necessity: it is made by people.
Against this background, a central task of economic science becomes the understanding of the abundance of existing and possible economies: for example, in the form of organisational or production designs or of imaginaries and transition paths for future-fit economies. This understanding must be incorporated into democratic, public processes in which a Good Life for all is negotiated and realised.
As scientists, we are inevitably part of this public process and in this respect we are always positioned. Our actions or non-actions always make a difference. To understand these effects means to principally be able to justify scientific practice.
Economic education must enable people to understand, take responsibility and implement economic and scientific practice. Then there is the possibility that we, as economically educated people, can become part of the solution to current challenges.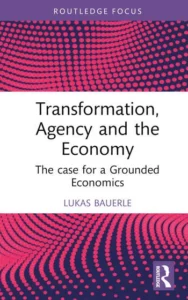 In May, my thoughts on a Grounded Economics and its conceptual underpinnings were published at Routledge. The book contributes new conceptual fundamentals to to-be-transformed economies and economics.
4th Jul 2023, 10:00 am: Zukunft machen (lernen). Keynote im Rahmen der Themenwoche "Transformation der Arbeit" des Zentrums Bildung der Evangelischen Kirche in Hessen und Nassau.
25th Jul 2023,: Transformation, Agency, and the Economy. Beitrag zur Session "Toward plural economies – Imaginaries of an Economy beyond Imperiality", im Rahmen der DNC5ALED Konferenz 2023 in Valencia.